and tickets were sold out within a week
Recently there has been massive increase in people leaving their day job or going part-time to start their own venture (I prefer to use the term Startup) but we haven't seen much of the entrepreneurial flair in the Muslim community. We know this because majority of our clients are predominantly from that niche market.
Therefore, we decided to organise the first ever Muslim entrepreneurship event in our studio – Pill Box along with Emerald Network and Seed Investment. The initiative was well received by our clients and followers. To our surprise, the tickets were sold out within the first 7 days. Much of it is due to the great lineup of speakers who will be sharing their stories and personal experiences, which included:
Harun Rashid – Founder of Islamic Design House
Harun is an entrepreneur and an investor. In just a decade, he has created a multi-million dollar company with a 70+ strong team of creative individuals and offices spanning the globe.
Shazia Saleem – Founder of ieat foods
Shazia launched the UK's first brand of ethical halal ready meals sold in Sainsbury's and Tesco. Saleem previously worked for Dragons' Den star Peter Jones CBE.
Hajera Memon – Founder of Shade 7 Publishing
Hajera has successfully raised over £40k in crowdfunding to finance the production of the World's first Quranic Pop-up book.
Tahera Akther – Founder of Olive Tree Study Support
Tahera is a Mother of four children runs successful a business, balances home and business life.
Rooful Ali – Founder of Emerald Network and RA Creation
Rooful, unique by name and nature, is a rare creative accountant. Pursued his passion for design and photography whilst a Chartered Accountant by profession.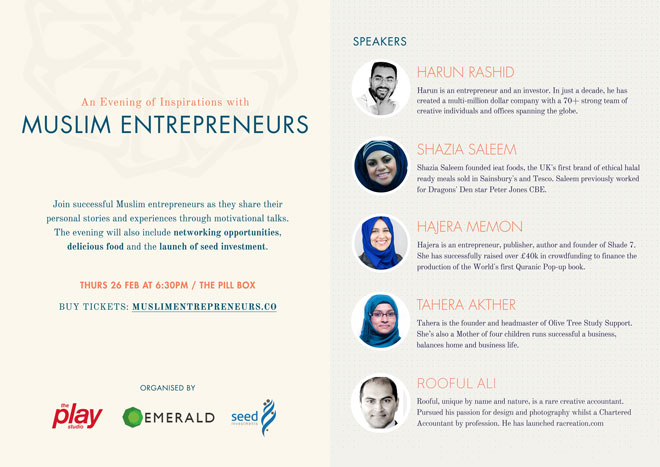 The event is to take place on Thursday 26th February 2015 and the event will be professionally filmed by Film Pill and photographed by Half & Half Weddings. We welcome any press coverage for this event and hope to organise similar events on half yearly or yearly basis on back of this.