One of the basics of marketing is to understand your target audience before you engage them. Knowing who you are selling to can work as a guide for the language and tone that you use. Tesco made the seemingly obvious mistake of advertising Smokey Bacon Pringles to Muslim customers during Ramadan.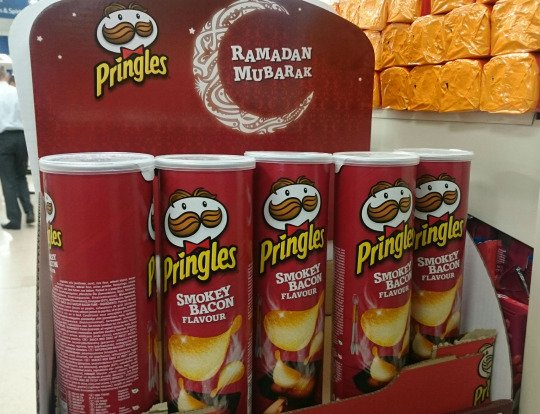 Targeting the Islamic community with food they feel sensitive towards is an interesting sales tactic and probably not the most successful.
Tesco made the following statement: 'We are proud to offer a wide range of meals and products to meet the needs of our customers during Ramadan.
'We recognise these Pringles weren't in the most suitable place and our store colleagues have now moved them.'
While these crisps do not include any actual bacon – the title itself is not particularly appropriate for people attempting to eat only halal meat and produce.
The display was seen in a Tesco branch in the city of London and was spotted by Raza Hassan and posted on Twitter. Hassan said he wasn't offended by the incongruous display, and added that he found the irony of it hilarious as did rest of the Muslim community
'When I first saw the promotion, there were many flavours of crisps – it just so happened that particular flavour was placed on top.
'I think it is a very nice thought and gesture from Tesco, it just seemed a bit ironic!'
Maybe Tesco should get in touch with an agency that understands the Muslim community, we would love to tell them the Pakistan flag with Ramadan Mubarak in their displays doesn't appeal to every Muslim.